Medieval is a season 1 combatant of RCL.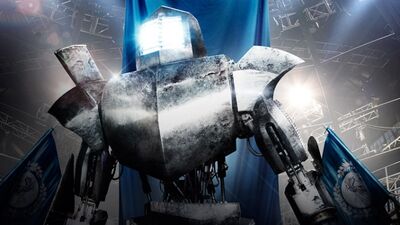 Biography
Edit
Medieval is made from steel, with chain mail and metal crests. The steel is finished with a distressed, battle-tested look.
Strengths
Edit
Spike ball
Shock mounted arm shield
Weaknesses
Edit
Asymmetrical design may be difficult to control
ROBO-JOCKEY
Name: John Peel
Age: 26
Occupation: Personal celebrity trainer
Hometown: Scottsdale, AZ
Residence: Los Angeles, CA
The high school All-American football player – and three-time All-State player – received a full football scholarship at the University of Utah. While playing football for the Utes, he battled through years of injuries that wound up putting an end to a promising football career. Now, John is a fitness model and celebrity personal trainer. Although he's left the gridiron behind, John continues to be an intense competitor and revels in competition of all kinds. 
ROBO-TECH
Name: Heather Knight
Age: 28
Occupation: Owner of Marilyn Monrobot Labs
Hometown: Lexington, MA
Residence: Pittsburgh, PA/Brooklyn, NY
It wasn't enough for Heather to receive a bachelor's and master's degree from MIT in Electrical Engineering and Computer Science – she's now pursuing a PhD from The Robotics Institute at Carnegie Mellon University. When she isn't doing doctoral research, Heather runs Marilyn Monrobot Labs in New York City, which creates socially responsive entertainment robots, and is the founder and producer of NYC's Robot Film Festival and Cyborg Cabaret. Heather, an only child, excels at individual sports and is considered to be a "rockstar" in the robotics world. She was included on the 2011 Forbes List for 30 Under 30 in Science for her work in creating interactive theater using robotics. 
RCL color commentator Dave Farra cals Medieval RCL's "knight in shining low-carbon steel".
Heather Knight's company Marilyn Monrobots is a pun on Marilyn Monroe.
He resembles Mega Man 6 boss Knight Man, as both have a mace on their left arm.
Considering his only advantages are the mace and shield, he could be considered as one of the weaker competitors.