Scorpio is a season 1 combatant of RCL.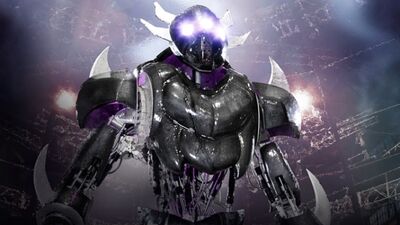 Biography
Edit
Scorpio is built from fiberglass (his body shells) and aluminum (his knuckles and body/limb spikes). The spikes are firmly fixed to the robot's skeleton. Much like the many actual insects that have spike-like hairs growing from their exoskeleton to protect them from their environment, Scorpio's spikes are designed to deflect its enemies' blows.
Strengths
Edit
Blade weapons
Carbon fiber composite armor
Weaknesses
Edit
Carbon fiber armor is not as strong as steel
ROBO-JOCKEY
Name:  Diana Yang
Age: 26
Occupation: Student
Hometown: Taiwan and Irvine, CA
Residence: Irvine, CA
Diana is a firecracker personality with a kind heart. Diana was born in San Antonio, TX and raised in Taiwan until the age of ten.  Her family moved to the Orange County Community of Irvine, CA where she lived until 18 when she moved to Miami, FL to pursue a career in real estate.  After the housing market crashed, Diana moved back to Irvine and is now working towards her BS in Industrial Design.  After her graduation this March, Diana plans to move to Hong Kong to pursue her dream of opening her own design firm, specializing in everything from home décor to furniture.  Growing up, Diana says she was an "ugly duckling," and not knowing the English language, she was bullied. However, she is a true fighter and persevered and continued to believe in herself.  Diana should never be underestimated. She also has a passion for kickboxing and credits the sport for keeping her calm and collected. 
ROBO-TECH
Name:  Chris Hardouin
Age: 33
Occupation: Toy Engineer at Mattel
Hometown: New Orleans, LA
Residence: Topanga, CA
They say you can't stay a kid forever, but Chris Hardouin doesn't agree. Born and raised in New Orleans, this Mattel toy engineer will forever be young at heart.  Though he earned his master's from Carnegie Mellon University, Chris retains a child-like innocence and is one of the most genuine and likeable people on Robot Combat League.  Chris is fiercely loyal, especially to his wonderful family, and would come to a friend's aid at 3 a.m. if asked.  But don't let his friendliness fool you. Chris is also determined to win the competition and hopes to start his own robotics company in the future, preferably in his hometown of New Orleans.
He resembles two characters from the Sonic the Hedgehog series, Metal Sonic and Knuckles the Echidna, Metal Sonic and Scorpio have spikes on ther bodies, however Metal Sonic has his spikes on his back and Knuckles and Scorpio have sharp knuckles on their hands.
He slightly resembles Stealth Elf from the Skylanders series as both "bring knives to a fishtfight".
He bears a resemblance to the Deadly Nadder, a dragon form the How to Train Your Dragon series.
His only loss was the only fight where his opponent wasn't cut in half.