Thunder Skull is a season 1 combatant of RCL.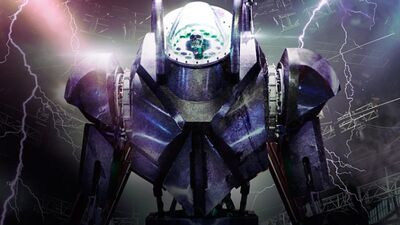 Biography
Edit
Thunder Skull has a clear resin dome that covers his 'skull,' which moves around with a life of its own.
Strengths
Edit
Massive steal fists are long and heavy
Steel armor with excellent coverage
Weaknesses
Edit
No easy access for repairs
ROBO-JOCKEY
Name: Heather Williams
Age: 30
Occupation: Race Car Driver, Realtor, Contractor
Hometown and Residence: Atlanta, GA
Heather is fearless. She's a race car driver and was the first female to participate in the X-Games FMX event.  Enjoying business adventures, Heather is a realtor and owns a contracting company.  Having broken over 21 bones in her body, she doesn't let obstacles stand in her way.  If that isn't enough, she sings and plays guitar in her own rock band. In her extra time, she has a giving project called RocknSoldier.com where she puts together care packages to send to deployed soldiers.  Her southern charm is disarming, but she is also competitive and driven, determined to win.  
ROBO-TECH
Name: Brandon Lewis
Age: 32
Occupation: Entrepreneur
Hometown: Austin, TX
Residence: Venice, CA
Brandon is a self-taught I.T. guru who began taking apart computers and playing with electronic components at the age of 10 when his father enrolled in college to pursue electrical engineering. This is when computers, computer games and computer components became some of his favorite toys. Brandon started his first business at the age of 20 in Austin, TX, producing videos for organizations and events.  He then worked for Dell Computer for nearly 4 years selling computers to the US Air Force.  Brandon launched Nerd Alert! I.T. Specialists when he was 30. The company provides I.T. services to small businesses and home consumers. Brandon's other business ventures include Sports Champion, a startup fantasy sports game, and Lewis Designs, which manufactures high-end and stylish laptop bags.  Brandon is also involved in his local business community and is a committee leader for the LAX Chamber of Commerce.  Additionally, Brandon has worked with the series Extreme Makeover Home Edition on ABC, where he worked on several projects, including integrating technology for the visually and hearing impaired in homes, designing a high-tech interactive runway for aspiring models, and designing a live karaoke stage for a family with five special needs children.  And in his spare time, Brandon tinkered with basic electronics to build his own home security system.  Brandon is an avid traveler and loves to experience different cultures and meet new people. He is fun-loving and is especially good at a perfectly timed one-liner.
He is the only robot that was disqualified, in round 2 of the match against Brimstone, the jockey, Heather swung past the closing bell.
He resembles Batman villan Bane.
He is the only contestant to lose both fights.